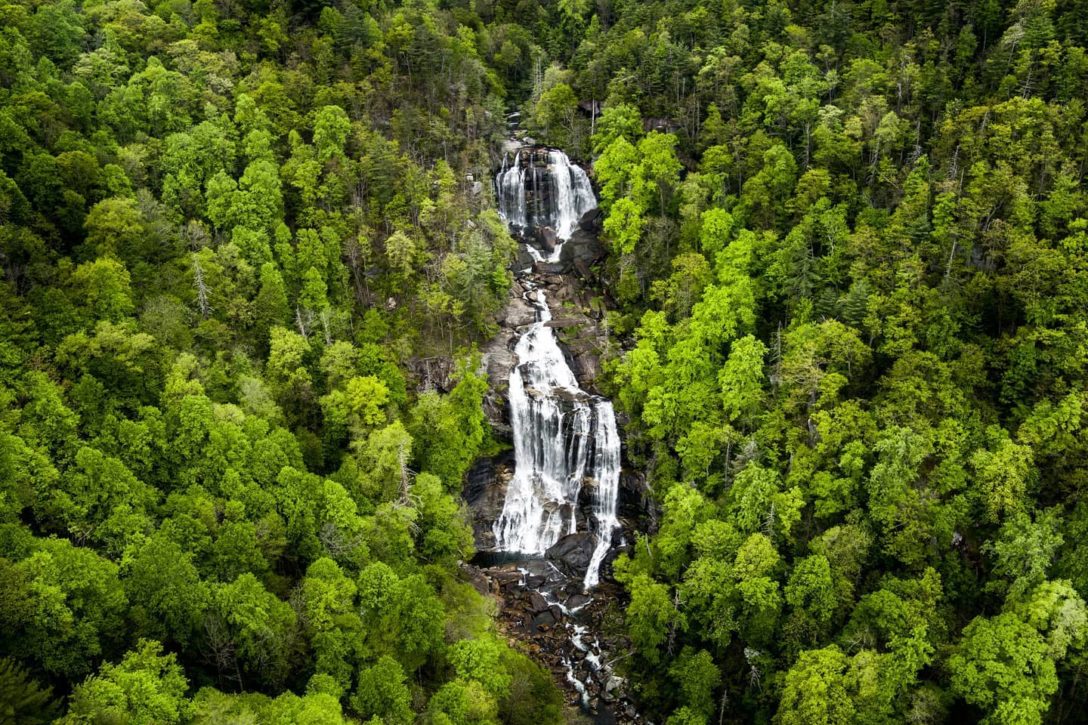 Top 15 Free Attractions in the NC Mountains
Nestled in the heart of the Blue Ridge Mountains less than an hour west of Downtown Asheville, our North Carolina mountain towns provide an affordable way for the whole family to reconnect. Enjoy a multitude of free outdoor activities and steer clear of crowded tourist traps on your mountain getaway. For much of the southeast, Jackson County is a short drive on a single tank of gas. It's true – the best things in life are free, so we've created a list of the Top 15 Free Attractions in the NC Mountains to enjoy on your next trip.
1)    The Blue Ridge Parkway – Cost: Free
The Blue Ridge Parkway is known as "America's Favorite Drive" and boasts some of the country's most scenic vistas. Spanning 469 miles through the Blue Ridge Mountains, 45+ miles can be found in and along Jackson County's borders.
In the spring and summer, the roadway is lined with blooming flora and fauna, making the drive even more stunning. Some of the most scenic overlooks and hikes can be found between the terminus located in Cherokee and Balsam Gap. Make sure to check out Waterrock Knob, Richland Balsam, Devil's Courthouse, Black Balsam, and Soco Falls located between Maggie Valley and Cherokee off of Soco Gap (US 19).
We always recommend ending the day the right way, so BYOB… bring your own blanket, that is. There's nothing like enjoying a golden hour picnic with takeout from one of our award-winning non-chain restaurants as the sun sets below the mountain ranges. Picnic areas are plentiful along the Parkway! Although open year-round, we recommend checking for weather related closures before venturing on the Blue Ridge Parkway in the winter.
2) The Great Smoky Mountains National Park – Cost: Free
America's favorite National Park is located in Cherokee and is known as the gem of Appalachia. Unlike other National Parks, the Great Smoky Mountains National Park is free to enter and enjoy. The Park is shared with our neighbors in Tennessee and is a 520,000-acre natural oasis with over 850 miles of trails, countless waterfalls, and a thriving wildlife and elk population.
In fact, the Great Smoky Mountains National Park is one of the most biologically diverse ecosystems in the temperate world, with over 19,000 documented species within the Park; however, scientists believe an additional 80,000-100,000 additional species may call the park home. Enjoy hiking pristine protected trails alongside crystal clear waters, so transparent you can see right to the bottom of the riverbed. Fall in the Great Smokies is a sight to behold, while winter brings light snow a few times a year. Spring in the Smokies is a great time to witness the blooming of over 1,500 species of wildflowers (many of which can only be found in the Park), and summer activities include hiking, sightseeing, and cruising with the windows down.
Also in the Smokies:
Three additional free stops you won't want to miss in the smokies are:
Mingus Mill: Explore a fully functioning 18th-century turbine mill. Free tours are offered when available, and you can even purchase the cornmeal that the mill produces. (Due to COVID 19 inside tours are not available but the self-guided tour is awesome!)
Oconaluftee Visitor Center/Mountain Farm Museum: Located in Cherokee at the North Carolina entrance of the Smokies, the Oconaluftee Visitor Center is a great place to learn about the history of the park, as well as the challenges and victories faced today. Make sure to take the Oconaluftee River Trail through the Mountain Farm Museum – a 19th– century interactive homestead museum complete with live barnyard animals, blacksmithing demonstrations, and an inside look at early Appalachian life.
Clingmans Dome: Situated on the North Carolina/Tennessee border, Clingmans Dome stands as the second-highest peak in the eastern United States at 6,643-feet above sea level. On a clear day, visitors can see over 100 miles from the observation tower. The hike is paved but very steep, as you climb over 1,000 feet in elevation over a half-mile path. Don't worry, there are benches along the way for you to take a break on the way up!
3) Panthertown Valley – Cost: Free (Map Purchase Strongly Recommended)
Tucked away in the Nantahala National Forest near Cashiers and Sapphire, the "Yosemite of the East" is ready for you to explore. Panthertown Valley is for serious adventurers only – it's not a national park, but a backcountry wilderness area with over 6,400 acres of pristine forests, over a dozen waterfalls, and 30-miles of multi-use trails, perfect for bringing out the outdoor adventurer in all of us. That much trail can cause some directional confusion, so we always recommend purchasing a map, either at the Highland Hiker in Cashiers or online here. Sitting in a temperate rainforest, the summer months remain cool, making it perfect for a refreshing day in nature. Spring and fall bring their beauty, as the mountains take on new shades. During our "Secret Season" (January – March), a whole new adventure comes alive. Waterfalls such as Schoolhouse, Greenland Creek, and Granny Burrell falls may freeze over, bringing the shimmering grandeur of a frozen waterfall to life.
4) Lake Glenville/Pines Recreation Area – Cost: Free
Lake Glenville is not only Jackson County's largest lake, but it's also one of the highest lakes east of the Rockies. Explore over 26 miles of shoreline, seven islands, and three hidden waterfalls in this mountain oasis. During the spring and summer months, it can be tough to choose between a beach or a mountain vacation. We've got you covered! Check out the sandy swim beach at the Pines Recreation Area. This lakeside retreat offers the best of the beach and the mountains, minus the sharks, riptides, and jellyfish. For families with mixed mobility needs, the beach, dock, restrooms, and picnic benches are ADA accessible for everyone's enjoyment. Make sure to visit during the week, as there are little to no crowds, and you can enjoy the Pines Rec Area to yourself!
5) High Falls – Cost: Free
High Falls (also known as Cullowhee Falls) should be placed "high" on your free mountain must-dos! Located in Glenville, this triple falls cascades over 100 feet into the West Fork portion of the Tuckasegee River. Parking to the trail is abundant and free, and the hike is short but steep across from the Pines Recreation Area parking lot. Exploring the falls in the late fall and winter opens up the views but be careful of frozen puddles around the fall's base. Things get a little more extreme in the spring and summer, when the Lake Glenville Dam releases create an extreme paddler's paradise. These Saturday releases occur six times a year and open up class IV rapids for extreme paddlers to take on, but also provide quite the show to safely witness from the shore.
6) Cashiers Sliding Rock – Cost: Free
If you're looking to cool off in the summer, Cashiers Sliding Rock is the perfect place to explore. Tucked away in the mountains, this natural sliding rock and swimming hole is ideal for families with younger kids and is less daunting than other sliding rocks in the region. Even as things heat up in the summer, the water flowing over the rock maintains a cool temperature, making it a perfect way to beat the heat.
7) Silver Run Falls – Cost: Free
Wouldn't it be great if a hidden waterfall was located only a few minutes from town and only required a few minutes stroll to see? Well, there is! Silver Run Falls is highly revered for its simplistic beauty nestled among thick rhododendron groves. During spring and summer, the surrounding blooms create a perfect backdrop for a photo, while the shimmering sandy swimming hole underneath is a great place to cool off. During our "Secret Season," a frozen Silver Run Falls takes on a whole new persona, especially when it snows. Large icicles form at the top of the falls, glistening off of the afternoon sun, making it a wonder to explore year-round.
8) Whitewater Falls – Cost: $3 Parking Fee
Yes, there is a $3 parking fee per car, but we guarantee this will be the best three bucks you've ever spent! Located near Cashiers along the North Carolina/South Carolina border, Whitewater Falls stands at 411 feet and is one of the highest waterfalls east of the Mississippi. The path leading to the falls is a paved quarter-mile stroll, leading to the first view of the falls. Whitewater Falls upper viewing platform is accessible for families with mixed mobility needs. Head down the 154 steps to the right to access the viewing platform and the best place to photograph the falls, as the falls is situated perfectly between two evergreen trees.
9) Whiteside Mountain – Cost: $3 Parking Fee
If you've got $3 to spare and some time to enjoy a hike, Whiteside Mountain is the perfect adventure for you. Located between Cashiers and Highlands in the Nantahala National Forest, Whiteside Mountain boasts the highest vertical cliffs in the eastern United States and is known by some geologists to be one of the oldest mountains in the world (at 390-460 million years old!) This family-friendly trek ascends to the 4,930-foot crest where peregrine falcons soar overhead and are known to be perched in the rocky outcrops during nesting season. Make sure to snap a photo, as there is a quarter-mile stretch of scenic views perfect for capturing the beauty of the area. Warmer weather hikes are great, but during the colder months, you'll enjoy the trail to yourself, shimmering icicles growing from the rocks, and crisp, clean and cool mountain air.
10) Pinnacle Park – Cost: Free
Sylva's Pinnacle Park is a 1,400-acre natural playground located just minutes from downtown. Home to miles of hiking trails, waterfalls, and the iconic giant bolder, Pinnacle Park is entirely free and offers a natural escape. Advanced hikers will want to take on the West Fork Trail. Ascending 3,000 feet in only 3.5-miles, the West Fork Trail is one of the most challenging trails in Jackson County. Those willing to tackle the trail are rewarded with an iconic view of Sylva and the surrounding mountain ranges. Those looking for something a little more relaxing, enjoy Pinnacle's many other lesser loop trails, or hike to the iconic rocky outcrop, only a half-mile up the West Fork Trail. Pinnacle Park is a year-round attraction, and visitors can enjoy abundant spring and summer blooms, the changing leaves of fall, and the cool air and lite snowfall of winter.
11) Jackson County Courthouse – Cost: Free
The Iconic Jackson County Courthouse stands grandly over the mountain town of Sylva. Constructed in 1914, the Courthouse is now home to the Jackson County Library, Genealogical Society, and the Jackson County Historical Association Museum – all completely free!
Those looking for a mid-day workout will want to climb the 107 steps to the top, revealing the best view of Sylva and the surrounding Plott Balsam Mountains (or drive around back to avoid the stairs.) If you're looking to wind down for a while, head into the library, where kids will enjoy the library, as there are thousands of books to choose from, along with an interactive kid play area.
12) Mingo Falls – Cost: Free
Experience a "wow" moment that simply cannot be captured in a photo at Cherokee's Mingo Falls. Mingo Falls cascades over 150 feet, and the only cost is climbing the 164 stairs to the viewing platform, and it is entirely worth it! The cascade's splendor can be seen as the water gracefully descends at different speeds, making for a stunning visual effect. Enjoy the falls all to yourself by getting there early on a weekday and soak up the beauty of this regional gem.
13) Zachary-Tolbert House – Cost: Free (Donations Encouraged)
Located in Cashiers, the Zachary-Tolbert House has remained virtually unaltered for over 150 years. This historical estate tells the story of the early settlers to the Cashiers Valley and is home to the most extensive collection of "plain-style" furniture in the world. Visitation is available year-round, and there is a calendar of events for all ages. The grounds are also home to Colonel John's Cabin, the old Schoolhouse, a 1920s Dependency, and the Dowden Pavilion and gardens. Take a tour with one of the volunteers and have an interactive tour of the property to learn Cashiers Valley's vibrant history.
14) Freedom Park – Cost: Free
Located at Sylva's Mark Watson Park, directly behind the Historic Courthouse, Freedom Park features full-size replicas of the Nation's most cherished documents – the Declaration of Independence, United States Constitution, and Bill of Rights. Displayed under the National, State, and County Flag and open to the public year-round, Freedom Park is a great way to learn about our Nation's founding without dealing with the city traffic of Washington DC.
15) Judaculla Rock – Cost: Free
Experience the rich history of the Cherokee Indians told by its ancestors at Judaculla Rock. Located minutes from Cullowhee, this large soapstone rock is home to a vast display of Native American petroglyphs, thought to be thousands of years old. This historic landmark tells the story of Tsukalu or Judaculla legend of the Cherokee and may have served as the landmark for the hunting god. The rock has a large viewing platform and signage telling its story as well as its preservation and legacy.
Upgrade Your Outdoor Adventure
Rafting/Kayaking – The Tuckasegee River is a regional hub for paddling adventure. During the warmer months Check out our Rafting outfitters for either a guided tour, or a solo/family adventure. Enjoy a day kayaking on one of our pristine lakes or for extreme paddlers – take on class IV Rapids on Lake Glenville Dam release dates.
Guided Tours – From Shinrin Yoku forest therapy tours to Botanical tours and, guided fly fishing float trips, and more, Jackson County offers ways for you to upgrade your adventure by booking a guided tour. Check out our Guided Tours/Experiences.
Biltmore Estate – Located in Asheville, North Carolina, the Biltmore Estate makes for a great day trip for the whole family. America's Largest Home® is a 250-room French Renaissance chateau, exhibiting the Vanderbilt family's original collection of furnishings, art, and antiques. Biltmore estate encompasses more than 8,000 acres including renowned gardens designed by Frederick Law Olmsted, the father of American landscape architecture. Tip: Save some money by booking your visit online at least seven days in advance.
Museum of the Cherokee Indian – The Eastern Band of the Cherokee Indians have called Western North Carolina home for generations. Inspired by the beauty and ingenuity of the Cherokee people, this is a cultural and historical tour without equal, one fused with interactive video, intriguing displays, and a full sensory experience. Learn about their thriving Native American heritage told authentically.
Shopping – Jackson County offers many locally owned non-chain stores worth exploring. Find the perfect keepsake at one of our antique stores, Appalachian art galleries, or gift shops. Check out our 'Shopping' page for inspiration.
Rainy Day Must-Dos – Being in a temperate rainforest, it isn't uncommon to experience rain on your trip. If you do, check out our 'Rainy Day' Trip itinerary for some ideas!
Budget Bites     
During a day full of exploring, Jackson County is home to some fantastic bites for a great price. Check out The Coffee Shop in Sylva – Sylva's oldest restaurant! Since 1926, The Coffee Shop has been serving up hometown fare. Other places to grab a great bite for a great price are Mad Batter Kitchen, Cosmic Carryout, and in Cashiers, Whiteside Brewing and Slab Town Pizza. If you're thirsty, make sure to explore our Jackson County Ale Trail, made up of six breweries across the county, or check out our wine and cocktail lounges.
Budget-Friendly Stays
Jackson County is home to a variety of accommodation options for an affordable price. During our "Secret Season," January-March, our lodging partners offer specials and deals, giving you the best nights at the best price. Compared to regional cities, we provide comparable stays at a quarter of the cost, giving you more mountains for your money. Cozy up in a remote cabin or enjoy the charm of a mountain vacation rental or boutique hotel. Our location is perfect for your next mountain escape, as we're in the middle of the most and offer the best free attractions in the area for only the cost of a tank of gas. Plan your trip today!
Feature Photo Courtesy @mandale95