Accessible Attractions
Your Guide to All Things Accessible in Jackson County
There is no better place to enjoy the western North Carolina mountains than Jackson County. Our visitors and residents enjoy unspoiled landscapes, lofty mountains, and picturesque, cultured towns that provide the perfect setting for enjoying a little R&R.
We want everyone to experience the beauty of North Carolina, so here's your guide to accessible attractions, parks, and museums in Jackson County.
Attractions +
We have a wide range of accessible attractions in Jackson County, so everyone can get in on the fun!
Tuckasegee River Greenway
Ideal for persons who use mobility devices, including manual and power wheelchairs, walkers, or canes. Families with mixed mobility will find this an ideal location.
This one-mile, out-and-back trail starts by crossing an arched footbridge, then winds along a scenic stretch of the Tuckasegee River. This trail is a local favorite and offers accessible restrooms and parking. The grade along the whole path is gentle—with the exception of the incline onto and off of the bridge that crosses the Tuck—and the mixed hardwoods that line the trail provide enough shade to offer a relaxing and cool route any time of day.
Sylva's Freedom Park at Mark Watson Park
Ideal for persons who use mobility devices, including manual and power wheelchairs, walkers, or canes. Families with mixed mobility will find this an ideal location.
Sylva's Freedom Park at Mark Watson Park offers visitors a chance to see full-sized replicas of some of the nation's most important documents: the Declaration of Independence, United States Constitution, and Bill of Rights. Freedom Park also offers an easily accessible experience for all of its visitors with parking conveniently located less than 100 feet from the park and smooth sidewalks leading to the attraction.
Jackson County Library & Historic Courthouse
Ideal for persons who use mobility devices, including manual and power wheelchairs, walkers, or canes. Families with mixed mobility will find this an ideal location.
The Jackson County Library, which includes the historic Courthouse, is a state-of-the-art library that preserves a beautiful piece of local history. Completed in 2011, the modern two-story library is built in the same style as the stately courthouse, which was constructed in 1914. The historic building is home to art and historical societies, and it features rotating exhibits that offer visitors a look at the county's history and mountain culture. The community room, formerly the courtroom, is now home to many free music concerts, performances, and community events.
Oconaluftee Visitor Center, River Trail & Mountain Farm Museum
Mixed surfaces and trails with varying accessibility levels.
Nestled into the entrance of the Great Smoky Mountains National Park, the Oconaluftee Visitors Center, River Trail & Mountain Farm Museum provide accessibility for all visitors. The restrooms and Visitors Center offer fully ADA-compliant accessibility, while the Mountain Farm Museum includes different surface types; some trails are paved but others are packed earth.
Users with mobility devices may not be able to access all areas but should be able to view most exhibits. When visitors are ready to get a bit closer to nature, they can venture along the wide, firm dirt path of the Oconaluftee River Trail.
Western Carolina University Fine Arts Museum
Offers ample handicap accessible parking, automatic doors, and plenty of room.
The WCU Fine Arts Museum at Bardo Arts Center is located on the campus of Western Carolina University. Open year-round, the museum features four galleries, a growing permanent collection, and rotating exhibitions highlighting the work of regional and international artists. The museum offers a fully accessible experience to those with varying mobility or visual impairments, providing a large selection of accessible parking and automatic entry doors. The museum and entryway is flat and does not require any stairs.
Western Carolina University Ramsey Center/Catamount Athletics
Offers ample handicap accessible parking and wheelchair accessible seating.
Western Carolina University is home to Catamount Athletics, WNC's hometown NCAA Division I Athletics program, which includes 16 intercollegiate sports. Depending on the time of year, Jackson County visitors can catch a game and experience the thrill of Catamount athletics. WCU's E.J. Whitmire Stadium offers accessible parking and wheelchair ramps leading into the stadium seating area.
WCU's Liston B. Ramsey Regional Activity Center, home to Catamount basketball, boasts the most accessibility. Accessible parking is located at the Center's Forest Hills Road entrance, and visitors are greeted by accessible doors that lead directly to the main concourse. Check current schedules.
The Village Green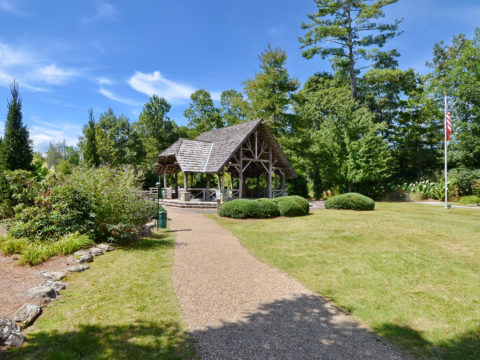 The Village Green Commons Events Venue is fully accessible and will host performances, ensembles and special offerings throughout the year. The event center has wheelchair ramps, a handicap accessible entrance and all bathrooms are accessible. The performance stage features a wheelchair lift.
Outside the events center is a packed gravel trail winding throughout the 13-acre park. All three entrances to the Commons are handicap accessible. Good for families with strollers and mixed mobility needs of individuals with limited mobility. Not ideal for wheelchair users. Nestled within the heart of Cashiers is The Village Green. This serene location offers a quaint escape from the worries of the world and the hustle and bustle of everyday life. The Village Green offers accessible parking along with a firm gravel/pavement path weaving throughout the park. Although not completely accessible, the park allows for those with limited mobility and mixed mobility room to explore this serene location.
Zachary-Tolbert House
The lower level of the main house is wheelchair accessible, but the gravel is loose. Please contact the museum for more information.
This historical landmark takes visitors back in time to the founding of Cashiers. Now a historic house museum, the Zachary-Tolbert house exhibits unique "plain-style" furniture created by the builder of the home, and the collection is considered to be the largest known grouping of its type.
This museum aims to offer an accessible experience to all of its visitors. Behind the rear entrance of the home, there is a vehicle roundabout with a ramp leading up to the Zachary-Tolbert House and Colonel John Zachary's Cabin, where visitors are welcome to explore the entire first floors.
Fishing +
Our fishing guides and outfitters are happy to assist those with mobility issues to ensure that everyone has a great experience on our rivers and lakes. Contact our guides and outfitters today to discuss guided float trip options.
Bear Lake Fishing Pier
Bear Lake is known for its fishing, boating, kayaking, and scenery. However, many people are not aware that Bear Lake is also a great attraction for people with limited mobility. Located at the main dock is a fishing pier with an accessible ramp that's large enough to comfortably host both a wheelchair user and an additional person. Bear Lake also offers fully ADA-compliant restrooms, making it an attractive option to those with limited vision or mobility.
Lake Glenville Pines Recreation Area
With 26 miles of shoreline, 7 islands, and 3 gorgeous waterfalls, Lake Glenville is a scenic retreat for residents and visitors alike. As one of the highest elevated lakes east of the Rocky Mountains, Lake Glenville is the largest lake in Jackson County. Known for its exceptional bass fishing, the lake also boasts wonderful options for people with mobility and vision impairments.
Pines Recreation Area has a ramp-accessible fishing and viewing pier that extends over the pristine waters of the lake. There is also a selection of accessible parking spots located directly next to the path leading up to the pier. Pines proudly offers fully ADA-accessible restrooms and wheelchair-accessible picnic bench seating, making this attraction an amazing opportunity for everyone to explore and enjoy Lake Glenville.
Waterfalls +
We're often asked about waterfall accessibility in Jackson County. While none are fully accessible, there is one waterfall that offers easier access for those with certain mobility challenges.
Whitewater Falls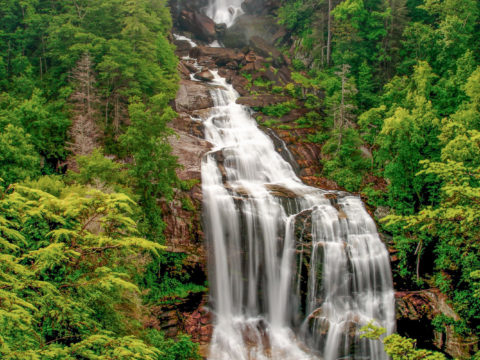 Whitewater Falls is famously known as one of the highest waterfalls east of the Rockies. But the beauty of this national attraction is not reserved for those who possess strenuous hiking abilities. The parking area offers fully accessible parking spaces and ADA-compliant restrooms. The trail up to the first viewing platform is paved, wheelchair accessible, and located less than a quarter of a mile from the falls. This viewing area showcases a large portion of the falls and serves as an excellent vantage point for photos. 
The lower viewing platform is not accessible to wheelchair users as it requires a 124-step climb.
Preparing for Adventure +
Jackson County provides attractions and adventures that are suited for all visitors. Request our Visitor Guide to get your NC adventure started! While the guide includes a Handicap Accessible column, please call your specific accommodation in advance to discuss your needs. We can't wait to see you in Jackson County!
Lodging +
Please contact the property in advance to ensure your individual accessibility needs are met.
We are an 18-room pet-friendly boutique mountain hotel right in the center of Cashiers, reflecting the perfect blend of mountain rustic and modern design. Our hotel offers among the largest rooms in town including rooms with one King bed or two queen beds. All rooms include complimentary parking, free high-speed Internet access, cable TV, mini-fridges, coffeemakers, hairdryers, irons & ironing boards. Guests can also enjoy scenic outdoor seating under charming patio lights. The Cashiers Village Inn is surrounded by highly sought-after outdoor activities including golfing, hiking, fishing, boating, biking, and horseback riding. Situated in the heart of Cashiers, the Cashiers Village Inn is a perfect launching point to explore some of Western North Carolina's most breathtaking mountains, streams and waterfalls including Whiteside Mountain, Whitewater Falls, Panthertown Valley, and Rainbow Falls, as well as great shopping and dining in town!
Red Bear Cabin has one of the best locations on Lake Glenville, located on the east side of the lake on White Squirrel Trail
Red Bear Lake Cabin can sleep up to nine persons with its three private bedrooms and three bathrooms. The cabin also has two lower terraces, a deck, 3 kayaks, and a boat dock. This location is ideal for trips ranging from a couple's getaway to a larger family vacation rental.
Thank you for your interest in one of our seven cabins. We are a family owned and operated business that has been renting cabins since the mid-1980's with 1,000's of happy guests.
Guests staying at Sunset Farm Cabins will enjoy a friendly atmosphere along with picturesque views. The property sits on 5.5 acres of green land in the mountains. The common area throughout the cabins is well manicured for guest's enjoyment. All guests will enjoy the mountain views, huge fire pit, 2 hot tubs, badminton, horseshoes, and relaxing at the comfortable picnic tables and chairs near the grass. Please see our Amenities Page under Guest Information to see a list of amenities provided by the cabins and suggestions as to what you may want to bring with you.
Rushing Waters is a custom built cabin conveniently located in Dillsboro, NC overlooking beautiful Dick's Creek. It's located on the owner's 15 private acres.
Four different properties located in beautiful Jackson County! All rentals at Prime's Property offer WiFi, BBQ Grill, Hammock & Kitchen.
Newly renovated rooms, Free Continental Breakfast & WI-FI. Pet, non-smoking and smoking friendly. Special rates for Military/Vet/Retirees, bikers, and groups. Over 3,800sq ft of events space! Newly remodeled 70-room CHOICE franchise hotel in Sylva. Complimentary hot breakfast, seasonal outdoor pool, high speed wireless Internet access. Pet-friendly, smoking and non-smoking rooms available. Open year round.
Mountain Vacation Rentals, LLC is a provider of premier vacation rental homes in the Cashiers area including Lake Glenville, Sapphire Valley, Trillium Links, and Lake Club.
Located minutes from the Great Smoky Mountains National Park
Expect southern hospitality with comfort and quality at Microtel Inn & Suites in Sylva, North Carolina. Nestled in the mountains of Western North Carolina the hotel is near the Great Smoky Mountains National Park and Blue Ridge Parkway. Outdoor recreation is limitless in Sylva and surrounding areas. Try your luck at Harrah's Cherokee Casino or take a ride along the Great Smoky Mountains Railroad in Bryson City. Endless mountain adventures await!
Extra-large home designed for Family Reunions and Wedding Parties. Six bedrooms plus den with pull-out beds, plus large loft that sleeps six. Open floor plan, perfect for socializing!
Excellent views of the valley and mountains beyond. We built this originally for our own family reunions and holidays, now we rent it when we are not using it. Last home on a cul-de-sac, so very private. In-the-woods, with hiking from our front door. An easy, beautiful 20 minute drive to downtown Highlands, and 15 minutes to Cashiers.
Logan Creek Lodge is a Private Rental Lodge that sleeps up to 26 people. The Lodge is an awesome place to make memories that last a lifetime!
The Logan Creek Lodge is situated in the beautiful Sapphire Valley Resort, and just a short walk to 3 swimming pools (one is indoor and open year round), snow ski slope, free miniature golf, gem mining, arcade room, fitness center, tennis courts, 9 hole par 3 golf, large activity field with kids playground, Horsepasture River, river walking trail, next door to Mica's Restaurant. Great for groups.
Privately owned houses, townhouses and condominiums in Highlands, Cashiers, Lake Glenville / Cullowhee, Sapphire, Burlingame and Lake Toxaway.
Stay Close to the Action, Far from the Crowds at the Holiday Inn Express & Suites Sylva-Western Carolina Area! Visit the Holiday Inn Express & Suites® Hotel Sylva – Western Carolina Area and rediscover the power of nature as you relax in the indoor heated pool or spa and gaze out over the majestic Great Smoky Mountains. Situated in Sylva at Dillsboro exit, this hotel's location is a wonderland of awe-inspiring scenery and only nine miles from Western Carolina University and one mile from historic Dillsboro, NC.
The cottage is furnished with an air of a rustic, romantic getaway for two, but with its 3 bedrooms, 2 baths and a sleeping loft, it is equally ideal for the whole family.
The first floor consists of the main living area, a bedroom with a queen bed, a full bath, and a sleeping loft with twin beds. The loft is accessed by a wall ladder, so it is best saved for use by children.
Nestled in the beautiful Blue Ridge Mountains, High Hampton Inn & Country Club offers family-friendly mountain getaways with lavish luxuries and endless opportunities to disconnect and unwind. As the historic High Hampton Resort closes for the 2019 season to begin the exciting re-imagination of the resort and club, there will still be vacation homes available for visitors to rent. Beginning in the 2018 off-season, and working with the North Carolina State Historical Preservation Office, High Hampton is committed to building additional resort amenities and renovating the historic inn and lodging accommodations while continuing the renovation of the golf course under direction of Mr. Tom Fazio and his team. High Hampton Resort plans to resume meeting, wedding and event reservations for the resort in mid-June, 2020. Please check the website and connect with High Hampton on Facebook and Instagram for additional updates and to book your 2020 event. For more information, and to book your vacation home in Cashiers, please contact 828-743-2411.
Highlands Cove Realty specializes in luxury mountain homes, homesites, condominiums, cottages and rentals at Old Edwards Club and in the surrounding Blue Ridge Mountain communities. The Highlands/Cashiers area of North Carolina is more than a destination. It's a lifestyle. When you're ready to make it your own—for a weekend or forever—Highlands Cove Realty at Old Edwards Club can help. No matter what you want from your mountain adventure, we're here to make it happen.
Beautiful mountain homes close to a stunning resort estate. Renters have access to the amenities and activities available on the property such as mountain golf, tennis, hiking and a European spa. High Hampton Realty has been in business for more than 15 years and is happy to assist with finding the perfect mountain retreat in the most beautiful area of Western North Carolina, characterized by spectacular mountain views, attractive native landscaping and tranquil natural settings. There is an enticing selection of vacation homes for renting or buying. Most homes are situated on a beautiful wooded setting that is just a short drive to the grounds at High Hampton. Rental homes are fully furnished including a great room with cable TV, fireplace, fully-equipped kitchen and outdoor grill. Homes range from two to five bedrooms and many feature cathedral ceilings and large picture windows. Rental homes are reserved through the main hotel rental office or online, with or without meals at the Inn. A three-day minimum is expected, with exception of a few homes that have a week minimum.
Escape to a mountain retreat at the Hampton Inn & Suites Cashiers-Sapphire Valley hotel. Our beautiful mountain hotel in Sapphire Valley is situated off US Highway 64 East near hiking, nature sightseeing and just slowing down to admire all four seasons. Hike at Panthertown Valley or Gorges State Park. Picnic at Lake Glenville and discover more waterfalls, or schedule a tee time at Sapphire National Golf Club. Our Cashiers, North Carolina hotel is about 60 miles from Asheville, NC and 12 miles from Highlands, NC.
Get a taste of North Carolina's Great Smoky Mountains when you stay at our award-winning Comfort Inn® hotel in Sylva, NC.
Chalet Suites, a small modern adult only Smoky Mountain Hotel, is the closest Boutique Hotel to the Great Smoky Mountains National Park, Blue Ridge Parkway & Harrah's Casino.
Chalet Suites, offers self-contained jacuzzi and fireplace suites with private entrances and upscale amenities to include AppleTV with free NetFlix, ESPN, the fastest free high-speed WiFi in a three county area and a full breakfast in your suite included in the nightly rate – not an extra surcharge. Constructed in traditional Alpine style, and designed for those seeking privacy and the quiet beauty of the mountains, our mini discreet hotel provides amenities rivaling those usually found only in big city hotels, along with beautiful vistas, hiking trails at your doorstep and freedom from the drone of traffic. Nestled in a 22 acre private forest where the Smoky Mountains meet the Blue Ridge Mountains between Cherokee, Bryson City, Dillsboro and Sylva, North Carolina, we are easily accessible and just minutes from Western Carolina University. Priced from $150 to $238 per night.
Located in historic downtown Sylva below the iconic Jackson County courthouse.
The Blue Ridge Inn is within walking distance to downtown dining, shopping and breweries. Newly renovated with modern amenities. Located in Sylva, 29 miles from Gatlinburg, Blue Ridge Inn features air-conditioned rooms and free private parking. Every room is equipped with a TV with cable channels. You will find a coffee machine in the room. The rooms come with a private bathroom. You will find a 24-hour front desk at the property. Cherokee is 9 miles from Blue Ridge Inn, and Maggie Valley is 12 miles away. Asheville Regional Airport is 39 miles from the property. 

Family friendly rental homes located between Sylva and Franklin on hwy 441. Join us for your next vacation in the mountains of Western North Carolina.
We have family friendly homes to accommodate you and your guests. There are 3 comfortable cabins on the ridge, within hiking distance; the cabins range in size and amenities; please review the detailed listing below. Be sure to check out the updates and recent photos on Facebook. Interior photos are of our most popular rental, Cabin 1. It is the largest of the three homes with 3 bedrooms and a sleeping loft.
A Best Western with a style all it's own. Overlook the Tuckasegee River from your spacious room, or relax with friends on our scenic riverside deck. The river is calling! From double queen rooms to whirlpool suites, we offer great rates on high quality lodging. Our Hotel is both business and family friendly. With great amenities such as an indoor pool, fitness center, & complimentary breakfast each morning, we are sure you will enjoy your stay will us. We offer special rates for military/vets, AAA and AARP members, and group blocks.