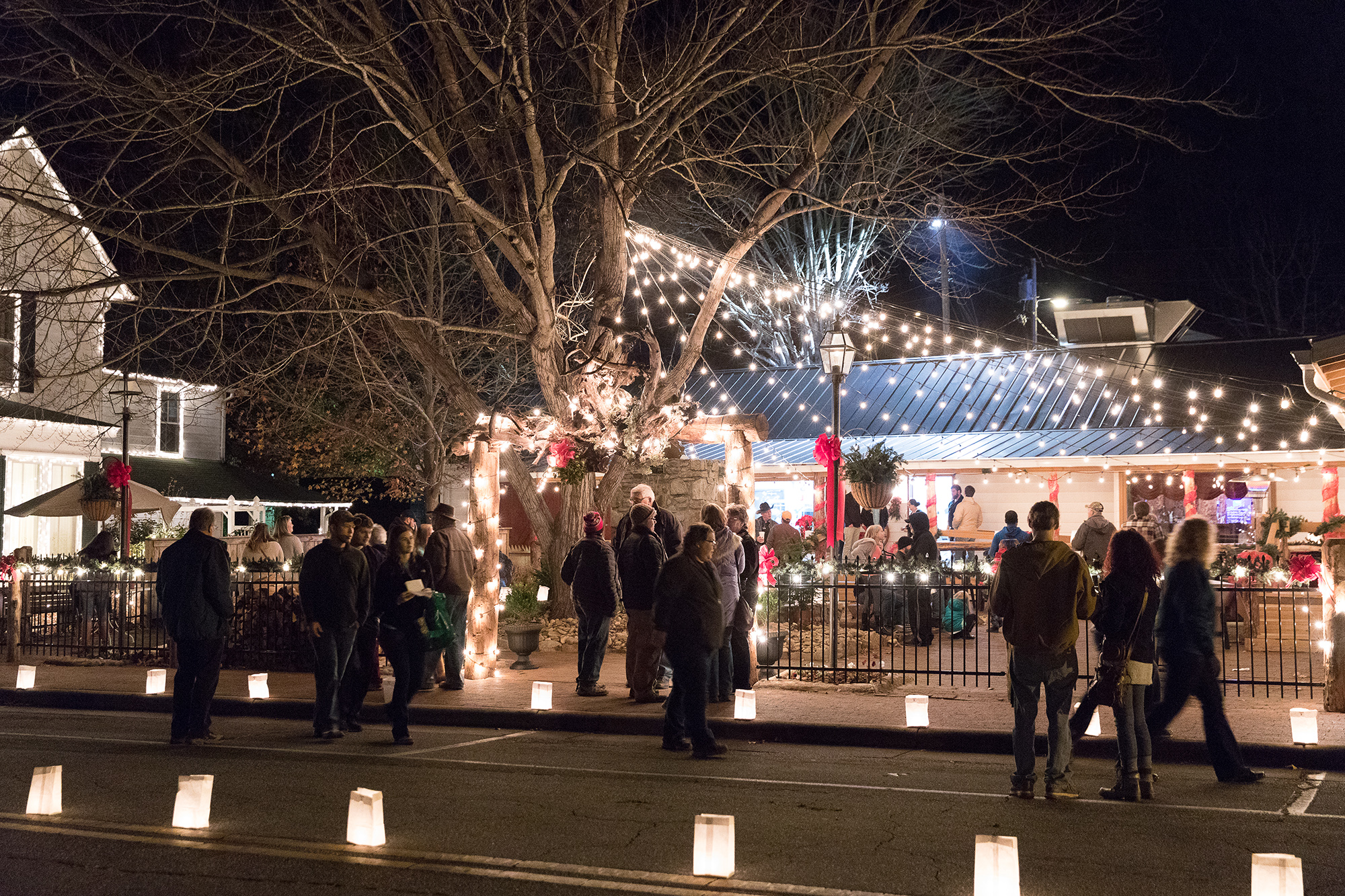 Jackson County Will Light the Way to a Perfect Holiday Getaway
The holiday season is nearly upon us, which means it is almost time for twinkling lights, hot cocoa with marshmallows, family traditions and warm memories. Located in Western North Carolina in the quaint mountain town of Dillsboro, the 35th Annual Festival of Lights and Luminaries allows you to experience all of the above in a magical winter wonderland!
During the first two weekends of December from 5 to 9 p.m., this annual tradition transforms Dillsboro into a winter wonderland with 2,500 paper luminaries lined along the streets of town. The town's buildings and trees are covered in thousands of lights, adding a magical feel. As the night lights up, you can journey back to yesteryear, feel the holiday spirit in the cold mountain air and experience this enchanting time of year.
Named one of Southeast Tourism Society's Top 20 Events for December, Lights and Luminaries is more than just thousands of beautiful lights. This free event overflows with holiday activities crafted to create cherished family memories with horse and buggy rides through town, a nativity re-enactment at Jarrett Memorial Church, visits with Santa and Mrs. Claus, a letter writing center where children can send Santa their wish lists, and much more!
Many businesses and civic groups will offer live music or carolers, as well as holiday treats like hot cider and cocoa. Visitors can enjoy an old-fashioned Christmas with storytelling and string popcorn garland in select shops around Dillsboro. The Appalachian Women's Museum will also be open with tours and entertainment.
While in town for Lights and Luminaries, take the opportunity to do some Christmas shopping in the town's locally-owned stores and boutiques. Not only do many offer a variety of wares not found elsewhere, but it's also an opportunity to support local craftsman and businesses. Hearing the stories behind the crafts from the shop owner or craft maker firsthand adds special meaning to those purchases that will be treasured year after year.
Be sure to stop into Nancy Tut's Christmas Shop. This holiday-themed store is filled with Christmas ornaments, snow globes, Christmas collectibles and lots of décor sure to add warmth to your holiday celebration. And don't forget that The Jarrett House (one of the oldest inns in Western North Carolina from around 1884) located in the heart of Dillsboro recently reopened and its restaurant will be in full swing this holiday season! There are plenty of other lodging and dining options in the area as well!
Given Lights and Luminaries is a weekend-long event, why not turn your visit into a holiday weekend getaway? In addition to taking in the lights and festivities, spend some time holiday shopping, enjoy a wonderful meal at one of the locally-owned restaurants, and use this time to create special holiday memories with your family.
Check out our Winter Getaway Itinerary here for more visit ideas, and request your free visitors guide to plan your visit today!