Fishermen's Retreat
Cast a line and reel in Jackson County's best by exploring local fishing hotspots. From expansive lakes to intimate waters, Jackson County has it all for the perfect fishermen's retreat.
Jackson County is home to the first and only fly-fishing trail in the U.S., and has been proclaimed the Trout Capital of North Carolina®. Not only does Jackson County hold an abundance of trout, but also provides a bounty of smallmouth bass, largemouth bass, muskellunge and crappie. Find numerous restaurants throughout the county that serve fresh trout and other local catches, as well as countless lodging options to complete your fly fishing excursion. Here is the perfect itinerary for planning your fishing trip to Jackson County, North Carolina.
Explore the WNC Fly Fishing Trail®
Start off your fishing trip by diving into the fly fishing trail. The trail maps out 15 ideal fishing spots, more than 4,600 miles of trout streams and 1,100 miles of hatchery supported waters for visitors to explore.
Travel Tip: Pick up a free, water resistant WNC Fly Fishing Trail Map® at the Jackson County Chamber of Commerce or, when on the other side of the county, at the Cashiers Area Chamber of Commerce upon your arrival, or download a copy from www.FlyFishingTrail.com.
Reserve a tour with one of our many local outfitters who navigate these waters day in and day out, and lead guests to fishing hot spots. Guided tours are available for those looking for a structured, yet authentic Jackson County experience. The Trail is stocked annually with 92,800 fish allowing for everyone to reel in the catch of the day. Whether you're seeking a full day of adventure or a half-day walk and wade trip, you will find what you're looking for with a Jackson County Fly Fishing Tour. Next: get your fishing license.
Fly Fishing in Sylva and Dillsboro
For fly fishing guidance in the Sylva and Dillsboro area, check out AB's Fly Fishing Guide Service, Blue Chip Fly Fishing, Fontana Guides,or Tuckaseegee Fly Shop. Further north of Sylva is Rivers Edge Outfitters in Cherokee. See a complete list of fishing services and outfitters in Jackson County here.
Make a stop along the fly fishing trail to visit Jackson County's beautiful lakes. For other fishing opportunities, visit Cedar Cliff Lake, which is known to have one of the most impressive populations of largemouth bass in the state and ease of access to the water for boating, canoeing and kayaking.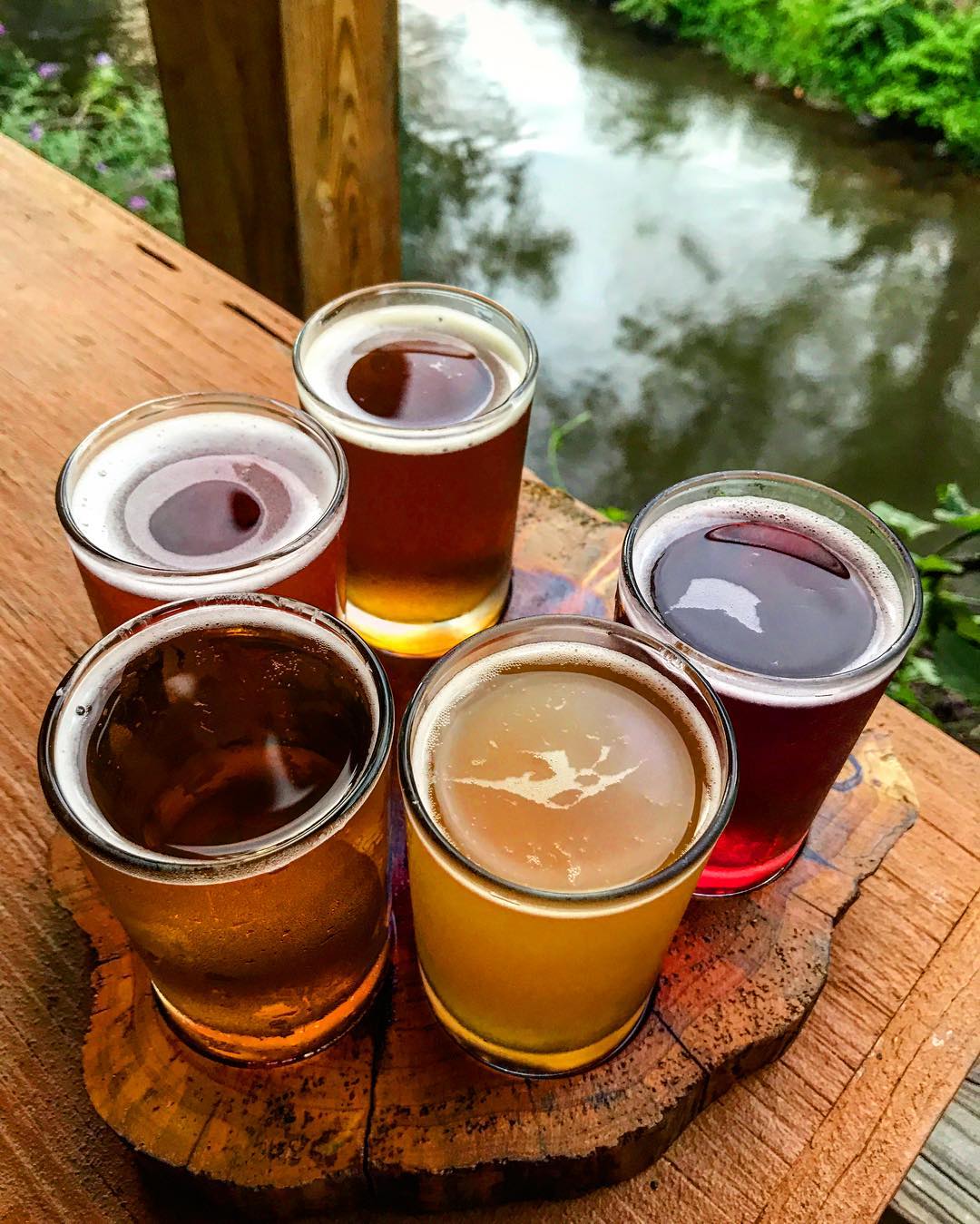 Kick-Back and Relax
Unwind after a day on the water at Whiteside Brewing Co. Sip on one of Whiteside's six main-stay brews or their seventh that rotates seasonally. Boasting beer that tastes like "mountain life in a glass," Whiteside is the perfect spot to relax with some soapy suds and your buds!
Grab a Bite
Supplement local beers with local cuisine, and head over to Mad Batter Kitchen, or Foragers Canteen for a casual dinner. Lulu's on Main offers food, spirits, seafood and other classic dishes. For lunch, consider one of the "Top 25 BBQ Restaurants in America" at Haywood Smokehouse for BBQ smoked to perfection, or Creekside Oyster House and Grill, located on Scott's Creek, one spot along the WNC Fly Fishing Trail. Breakfast hotspots in Sylva include City Lights Café, White Moon Café, and The Coffee Shop. In the mood for something else? Check out our incredible restaurants here.
Lodging in the Sylva and Dillsboro area is abundant with various cabins, hotels and much more.
Hooked in to Cashiers
Explore the fishing in higher elevation streams, and book a trip with Brookings Anglers. They offer a variety of tours, services and supply rentals from their experienced and welcoming staff. In addition to the WNC Fly Fishing Trail® there are also numerous lakes and rivers that offer incredible fishing, that contribute to Jackson County being known as a premier fishing destination in the state.
Rent fishing supplies to lead a self-directed day of catching a bite. Various locations in Jackson County offer opportunities for boat rentals varying from pontoon, fishing, canoes, kayaks and paddleboards. See full listing of fishing guides and outfitters in Jackson County here.
Lake Glenville, the highest lake in the county with 26 miles of shoreline, is located near Cashiers, offering a multitude of additional fishing and outdoor activities. Residents and visitors can take advantage of boating, pontooning, jet skiing, swimming and just about every other kind of water sport in the lake's beautiful waters. Visitors may fish for walleye, pike, smallmouth and largemouth bass in depths reaching 125 feet. Dream Catcher's Fishing Supply and Guides is the premier lake fishing guide company in the area and can show you the ropes, or in this case the lines, of fishing the area's lakes. There is also a public access point at the north end of the lake for those who prefer to navigate on their own.
Wolf Creek Lake and Balsam Lake also offer a variety of fish and easy access to the waterfront. Wolf Creek Lake holds plentiful amounts of brook, brown and rainbow trout while Balsam Lake is home to scenic trails and picnic areas for those who need a break from fishing.
Grab a Bite
After fishing the Cashiers area grab some local food at Buck's Coffee Cafe for breakfast. Stop by Mica's Restaurant and Pub where they'll dish up local trout and feature their own fresh North Carolina Rainbow Trout and other authentic Jackson County dining, such as The Orchard and Canyon Kitchen. For a dinner and nighttime hot spot, visit Library Kitchen and Bar or Winslow's Hideaway. Click here to see all the dining options and experiences in Jackson County.
On river banks or mountaintops, stay in cozy bed and breakfasts, rugged campsites or affordable hotels in Sylva or Dillsboro. In all cases, superior mountain, river or lake views come at no extra charge. Explore all of Jackson County's lodging options here.
Photo Credits: hookersflyshop, brookingsanglers, mels452, wcuffc