2017 Total Solar Eclipse
EXPERIENCE THIS EXTREMELY RARE CELESTIAL PHENOMENON
At 2:35 p.m. on August 21, 2017, Jackson County residents and visitors will have the chance to watch as the moon moves fully in front of the sun for the first time in 26 years.

Jackson County, North Carolina, is one of the few areas in North Carolina where visitors and residents can experience next year's extremely rare celestial phenomenon, a total solar eclipse. All of the county's towns, including Sylva, Dillsboro, Cullowhee and Cashiers, are in the direct path of The Great American Solar Eclipse. On August 21, 2017, the towns will have a stellar view of one of nature's most visual displays followed by a couple minutes of complete darkness. (See below for more information on EVENTS and ACCOMMODATION SPECIALS throughout the county.)
For cities inside the 70-mile-wide path of the solar eclipse, the sky will turn pitch black, the air will cool, and stars will be visible in the middle of the day. This is the first time in 26 years that America has seen a total solar eclipse, and it is one of the few that will sweep the nation from Atlantic to Pacific coasts. (View 2017 Total Solar Eclipse in the U.S.)
Jackson County is working to develop events, specific viewing locations, public safety, and accommodation promotions specifically for the eclipse event. The times of total darkness for Jackson County cities are as follows:
Sylva: 1 minute, 45 seconds
Dillsboro: 1 minute, 50 seconds
Cullowhee: 1 minute, 55 seconds
Cashiers: 2 minutes, 23 seconds.
The place with the longest totality is about 2 minutes 40 seconds, but some destinations throughout the country will only see 15 seconds of darkness. Learn more at the National Eclipse website.
Events
Prime Viewing Spots in Jackson County, North Carolina for the Solar Eclipse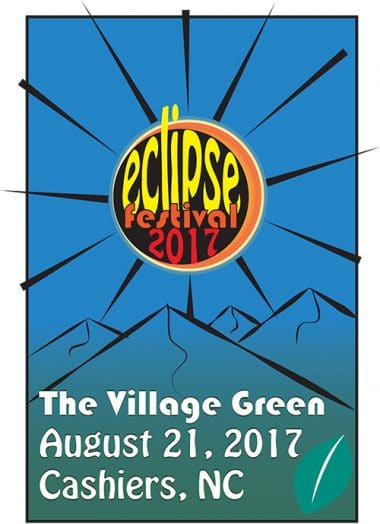 Cashiers Eclipse Festival
In Cashiers, The Village Green hosts a day of festivities and solar eclipse viewing "Eclipse Festival" on August 21 to celebrate the Great American Solar Eclipse.
Visitors can try several local food trucks such as Glenville's own Flip & Whip, enjoy beer by The Ugly Dog Public House and Satulah Mountain Brewing, and sweet treats and ice cream from Cream & Flutter. A live music performance by Coconut Groove, a 60's/70's cover band, will entertain guests throughout the day.
The Village Green Gazebo hosts subject matter expert presentations surrounding the Solar Eclipse. Visitors will have access to viewing equipment such as a solar scope and telescope, and all that are watching the eclipse will be given viewing glasses. Commemorative t-shirts will be available for sale to remember this once-in-a-lifetime event.
Downtown Sylva Eclipse Festival
In downtown Sylva, Bridge Park will host several activities and events through the weekend from August 18-21 to celebrate the Great American Solar Eclipse.
At Bridge Park, the weekend kicks off with Concerts on the Creek – on Friday, August 18th. The popular band, Porch 40 will be playing at Bridge Park from 7-9 p.m. During the evening, visitors can purchase food from an on-site food truck and MoonPies. On-site registration for 2-Mile Moonlight Madness run scheduled for Sunday night will be available.
Saturday night, Bridge Park hosts a headliner concert featuring A Social Function, a variety dance band, from 6:30pm-8:30 p.m. Visitors can purchase food from local food trucks and sip on moonshine. Visitors can partake in "Moonlight Madness" where shops offer extended retail hours and special sales.
Walking distance from Bridge Park, Sylva's historic district restaurants and cocktail salons will offer unique cocktails and Eclipse-themed culinary creations. The Jackson County Ale Trail will feature eclipse themed brews.
On Monday, leading up to the time of the eclipse, the Colby Deitz Band performs from 11 a.m. to 1 p.m. Local food trucks will be on-site to sell food during the day. From 11: a.m. to 3 p.m., visitors can hear from subject matter experts on the Solar Eclipse.
Other Eclipse Weekend Events
Cashiers Designer Showhouse – The 2017 Cashiers Designer Showhouse will stage place Aug. 12-27 (the entire weekend of the Total Solar Eclipse, excepting the day of the eclipse). Interior Designers representing the Southeastern region will not only bring trending design to Cashiers but will again create the magic that is The Cashiers Designer Showhouse.
Groovin' on the Green (Cashiers) — The Village Green Commons is the stage for artist performances with lawn seating. The Greater Cashiers Area Merchants Association sponsors the popular concert series, Groovin' On the Green. Additional concerts and musical programs are also held during the summer.
The Great Smoky Mountain Railroad will offer a special 'Eclipse Train' departing Bryson City at 11:15 a.m. on Aug. 21 to arrive in Dillsboro to view the Eclipse.
Arts & Crafts Festival (Dillsboro)- Over 40 artisans displaying and demonstrating their hand made arts and crafts. Family entertainment and food. Festival is on Saturday, from 10 a.m.- 4 p.m.
Arts & Crafts Festival (Saturday and Sunday, Sapphire Valley) – Alongside the arts & crafts festival, Sapphire Valley will offer discounted golf, tennis, foot golf and zip line rates at $30 for small groups.
Solar eclipse educational panels at Southwestern Community College's Myers Auditorium (Sylva) – Featuring Astronomy Professors and subject matter experts. Panels begin at 6 p.m.
Innovation Brewing will sell a limited release bottle of eclipse-themed beer commemorating the event; Sneak E Squirrel brewery will feature a dark (dark!) stout in the middle of the summer to commemorate the sun disappearing; they are also offering a special "sunny side down" burger with egg and served on a pretzel bun.
The following are also observing sites throughout the county (no programmed events):
Mark Watson Park
East Laporte Park
Many merchants have already ordered eclipse glasses to ensure everyone has a safe viewing experience. Some accommodations are including these in the weekend stay as part of their package.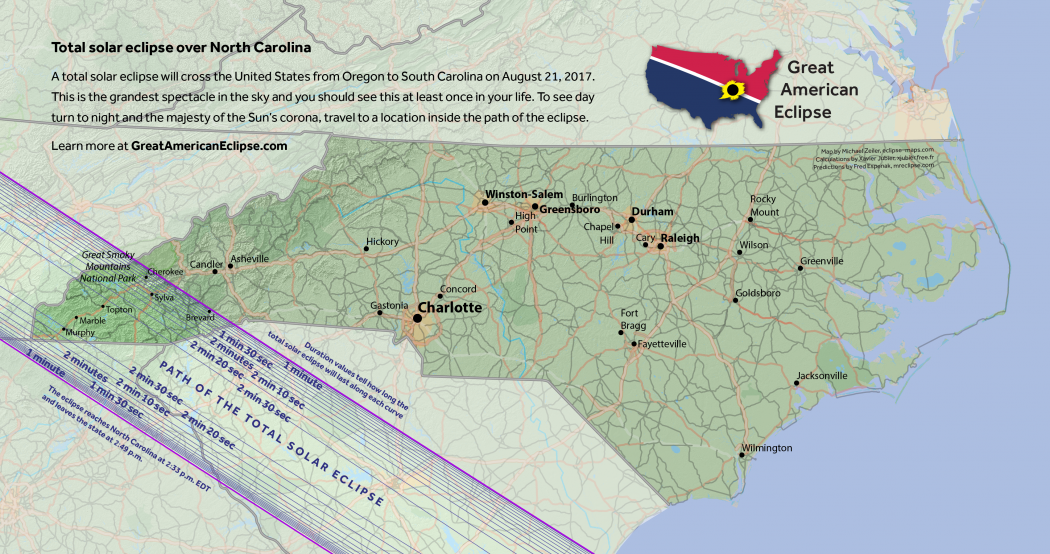 Accommodation Specials
Jackson County has countless lodging options to host guests to the area for the event, a number more than the surrounding counties. The county has everything from luxury resorts to cozy cabins and Airbnb rentals for visitors to enjoy, and many are planning special packages and deals in celebration of the eclipse. We have listed a few below.
High Hampton Inn & Country Club  — "Total Eclipse on the Rock" Mountain Package
High Hampton Inn welcomes eclipse chasers to elevate their gazes with a stay in the Western North Carolina mountains. In honor of the first full solar eclipse visible to the United States in decades, High Hampton Inn is offering cozy accommodations, top tier dining, complimentary boat rentals and tennis, discounted rates for mountainside golf and spa treatments, special solar eclipse viewing glasses and more. Guests can enjoy the Total Eclipse on the Rock House Party on High Hampton Inn's picturesque lawn overlooking Rock Mountain and the Resort's privately-owned 35-acre Hampton Lake. Festivities include High Hampton Inn's special Llama Olympics and live music by the Chuck Courtenay Band, solar drink specials and a build your own "Moon Pie" dessert station.
A two-night minimum stay is required. Rates start at $290 for single occupancy and $360 for double occupancy and include all meals. Please contact reservations at High Hampton Inn for more details and to secure your reservation: 800-334-2551. www.highhamptoninn.com
Hattler Properties and Mountain Lake Rentals
Cashiers and Glenville are premier locations to witness the Great American Eclipse as we are directly in the path of the longest duration of Totality (total darkness). The 2017 total eclipse is the biggest and best solar eclipse in American history and plans for celebrations, parties and viewings are already well underway. Join us for this spectacular experience!
Mountain Lake Rentals, a division of Hattler Properties, LLC has several homes to accommodate you for your viewing experience. Packages include:
Eclipse Viewing Glasses for your party
Lodging packages from 4-7 days, including homes on beautiful Lake Glenville, at
3500', the highest elevation lake east of the Mississippi, with pristine waters and cool temperatures.
Boat rentals are available or you can bring your own and enjoy your private dock.
An eclipse map and booklet with all you need to know about safely viewing the eclipse, as well as the history and science of this rare celestial event.
Call Mountain Lake Rentals for more information: 828-743-6875 or visit www.mountain-lake-rentals.com
Mountain Brook Lodge and Cottages
Mountain Brook Lodge and Cottages is offering a special Event Weekend Plus! Package for those heading in town for this spectacular celestial event- the Total Solar Eclipse. The weekend will be packed with music, attractions, and craft beer, complete with viewing locations right on our gully and all around us in downtown Sylva and Franklin.
Special Eclipse Package Rates: (August 18 – 22, 2017) *   
One Bedroom Historic Cottage (4,5,7,8, & 9):  $449.00

One Bedroom Historic Cottage (14):  $599.00

Two Bedroom Historic Cottage (1,2,3, & 6):  $559.00

Historic Cottage Plus Cottage (11, 12, & 15):  $689.00
 A minimum of four-night stay or more is required for this package. 
Additional nights, if reserved with your package, will only cost $100 per night/per cottage and are subject to availability.
*All rates include taxes and special Solar Eclipse viewing glasses. Group & WCU discounts do not apply to our already discounted package rates.  50% of the rate is required to reserve; the deposit on a cancellation for any reason after August 1st will not be refundable. Call 828-586-4329 for additional information, or visit http://www.mountainbrook.com/events—specials.html to make reservations and view all cottage options. Please note that our cottages are Fido friendly.
Landmark Vacation Rentals
Coming to the NC mountains to view the Great American Eclipse? Make the event an unforgettable one by staying in a Landmark Vacation Rental home! All of our vacation rentals are in the path of totality and offer the kinds of comfort and convenience you would expect in your own home. Renters during this special celestial event will receive:
Free Eclipse Viewing Safety Glasses for ALL members of your party

Free Selfie Stick (one per party) so you can capture the fun at Cashiers' Village Green Eclipse Festival on your smart phone's camera
Most homes have a standard minimum stay of three nights; however, we do have a few that allow two night minimum stays. Contact us TODAY to reserve your vacation rental home! We make it easy: 877-747-9234 (toll free) or online at www.LandmarkVacations.com.
Lonesome Cove Cabin (Cashiers):
Three-night stay for $745 from August 18-21, 2017 – call 864-921-7577
Quality Inn (Sylva)
Quality Inn of Sylva, NC welcomes you to join us for the viewing of a lifetime of the Great American Eclipse in Jackson County, NC. Our accommodation is minutes away from all special events happening in downtown Sylva and beyond.
Join us at Quality Inn for an outdoor pool party and our all-cash bar to enjoy the eclipse all from the comfort of the hotel. The location of the property provides a panoramic view of the mountains and wide open views of the Eclipse.
A minimum two-night stay is required. Rates are $200 for double occupancy, which also includes a full hot breakfast. Share the experience with your animal for an additional fee. Quality Inn of Sylva is the only pet-friendly hotel in the Sylva area. Call to make your reservations at (828)-586-3315 and ask for details about our flexible meeting space for hosting a viewing party of your own.
Best Western Plus (Sylva)
Enjoy the once-in-a-lifetime Solar Eclipse in the middle of the Blue Ridge Parkway and Great Smoky Mountains National Park. Stay at the ultimate in riverside accommodations at Best Western Plus River Escape Inn & Suites in Dillsboro, NC. Experience the many events in the surrounding area or spend your day relaxing on our scenic riverside deck and splashing in our indoor pool. There will be a deck viewing party with live musical entertainment, roaring fire pits at our River Walk, and food/beer specials on site. Special viewing glasses will be given to every guest and we'll toast the eclipse with complimentary sparkling champagne.
Imagine the perfect mountain getaway right on the Tuckasegee River. Quiet, serene, one-of-a-kind lodging outside of the hustle and bustle of other viewing locations. A minimum two-night stay is required. Rates are $275 double occupancy, standard rooms. Riverside upgrades available.
Holiday Inn Express (Sylva)
Accompany us at Holiday Inn Express in Sylva, NC to observe the Total Solar Eclipse in Jackson County. This unique occasion will mark the books for a once in a lifetime experience. While we are only minutes away from fun activities with downtown Sylva and Dillsboro, we have our own viewing party that can be enjoyed from the comfort of the hotel. We're close to the action, far from the crowds!
Our special rates include these activities:
– Full Hot Breakfast
– Indoor Heated Pool
– Catering and Beverage Services
– Eclipse-Viewing Glasses for all Guests
– Outdoor Seating Options
Call our front desk at 828-631-1111 to share this momentous occasion. When you choose Holiday Inn Express Sylva – Western Carolina Area you are choosing to #StaySmart. Room rates start at $260, double occupancy. Suite upgrades available.
The eclipse is not the only natural beauty that visitors will find in Jackson County. The county is also home to the highest lake east of the Mississippi, Lake Glenville, at 3,500 feet above sea level; Whitewater Falls, the second highest cascading waterfall east of the Rocky Mountains; more mountain heritage trout waters than other counties in North Carolina; and the highest point along the Blue Ridge Parkway at Richland Balsam. From the stars to the mountains, visitors can experience some of the Southeast's greatest natural beauties—all in Jackson County.
Media Contact:
Alexa Lampasona, Pineapple PR
(404) 237-3761 / [email protected]