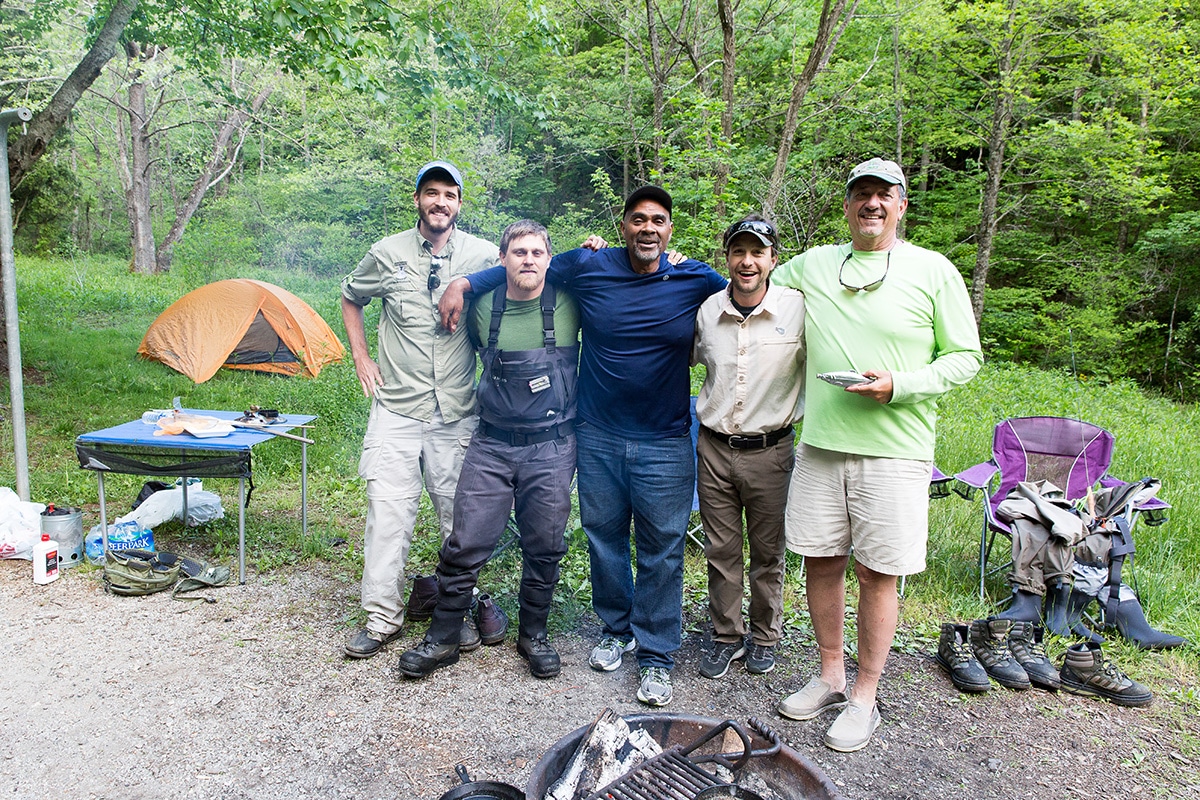 Jackson County Featured in Multiple Episodes of Anglers & Appetites this Week
JACKSON COUNTY, NC (July 18, 2016)– Anglers will enjoy watching Jackson County on national television this week with a third season of Anglers & Appetites. The first episode will feature three downtown Sylva chefs, and local anglers Matt Canter of Brookings and Kyle Fronrath of Fontana Guides.
Filmed in early May, Anglers and Appetites showcases two things – great fishing and culinary. The show's producer, David Zelski spent a week discovering the best that Jackson County has to offer. His sidekick, Phil Proctor, serves as the food critic for the show and brings levity to the kitchen. The two of them make for a light-hearted episode showing all the county has to offer.
A second episode will air the following week and feature lake fishing with Austin Neary of Dreamcatcher Guides, fly fishing with local guide Alex Bell of AB Fly Fishing and the Cashiers dining scene. The show debuts this week on FOX Sports with several reruns. A list of show times is available at the bottom.
"This is the third season of Anglers and Appetites that the Jackson County Tourism Development Authority has sponsored," JCTDA Director Nick Breedlove said. "It remains one of the best investments for us, as the show reaches more than 25 million viewers nationwide."
Fly fishing is a huge draw to Jackson County, due to the popularity of the WNC Fly Fishing Trail – the nation's first and only fly fishing trail that debuted in 2009. Since that time, visitor centers have handed out and mailed over 175,000 maps that direct anglers to 15 prime spots to catch trout in the county.
"The variety of fly fishing, unique places to visit and the people here are some of the many reasons we love visiting and shooting episodes in Jackson County North Carolina" said Zelski. "This is one of those special places we look forward to visiting for work, but also during our personal time with family. I always find something new that amazes me while there."
Jackson County contains 4,600 miles of trout streams and receives an annual stocking of 92,800 trout, more than any county in the state. It also features the state's longest contiguous stretch of NC Mountain Heritage Trout Waters. Three of the 13 towns designated with mountain heritage waters are in Jackson County: Sylva, Dillsboro and Webster.
The Jackson County Chamber is spearheading the effort with state legislators to be designated as the "Trout Capital of North Carolina."
"Viewers of Anglers and Appetiteswill recognize their towns and friends featured in the episodes and it will generate a lot of excitement for Jackson County," Breedlove said. "There is such a variety of fly fishing, and there are so many unique places to visit. You have the stops along the trail itself, but then you have to include the amazing Bass and Walleye fishing of the Lakes, Zelski said.
"When it comes to Jackson County, it's one of those places that I return to on my own time, with my own family. Every time I visit, I find something new that amazes me," Zelski said.
Airing Schedule:
Episode 304 – The Fishing and Food Trails of Western NC – Featuring: Brookings Float Trip with Matt Canter, Lulu's on Main, City Lights Café, Guadalupe and Fontana Guides Kyle Fronrath spinning reels at sundown.
Fox Sports South: Sat 07/23/2016 10:30 AM, Tue 07/26/2016 5:30 PM, Wed 07/27/2016 12:00 AM
Fox Sports SUN: Fri 07/22/2016 04:00 PM, Fri 07/22/2016 08:30 PM, Sun 07/24/2016 10:30 PM, Tue 07/26/2016 08:30 AM, Tue 07/26/2016 08:00 PM, Thu 07/28/2016 12:30 AM
Episode 305 – Fishing with Bell & the Bass of Bear in Western NC – Fly fishing with Alex Bell, Flip N' Whip food truck, Austin Neary on Bear Lake, Chef Adam Bresnahan from the Ugly Dog in Cashiers, Chef Michael Moore at High Hampton and a segment on kids fishing at High Hampton Inn
Fox Sports South: Sat 07/30/2016 10:00 AM, Tue 08/02/2016 05:30 PM, Wed 08/03/2016 1:30 AM
Fox Sports SUN: Fri 07/29/2016 04:00 PM, Sun 07/31/2016 10:30 PM, Mon 08/01/2016 11:30 PM, Tue 08/02/2016 08:30 AM, Fri 08/05/2016 04:00 PM
Photo Caption: AB Fly Fishing Guide services films a segment for television show Anglers and Appetitesearlier this spring on a small stream along the Western North Carolina Fly Fishing Trail. Pictured above are, from left, AB Fly Fishing guides Ragan Whitlock and Leland Shockley, Anglers and Appetites' Phil Proctor and David Zelski, and Alex Bell, owner of AB Fly Fishing. –Photo Credit: Jackson County Tourism