What We Love About Summer in Jackson County
Summertime is a magical time to visit the mountains and Jackson County, NC. is the perfect place to plan a summer mountain getaway! There are so many reasons that make this season such a great one for mountain lovers to visit our county, but we think the endless outdoor adventures, comfortable temperatures, live music, festivals and our incredible food and beverage options are a few that make our destination so special. Below, we've listed what we love about summer in Jackson County, and what makes this the ideal time to plan your next visit.
1) Live Music
First stop, immerse yourself in a musical evening and attend Sylva's Concerts on the Creek. Concerts on the Creek take place every Friday night, Memorial Day through Labor Day. Guests are encouraged to set up with a picnic blanket and chair up at Bridge Park and settle in for a relaxing evening of live music. For even more live music fun, head over to Cashiers for the Groovin' on the Green Summer Concert Series. This laidback event happens every Friday night at 6:30 p.m. at the Village Commons.
2) Brews
Hop on the Jackson County Ale Trail and sample the variety of breweries along the easily walkable, one-mile route in Sylva. The trail consists of three, unique breweries offering beers for all palates. The Sneak E Squirrel has 13 beers on tap and frequently revamps beer classics. This family-friendly brewery also features a full kitchen that dishes out tasty meals. The Heinzelmännchen Brewery is also a Jackson County favorite. Its beers are complex and flavorful, and have been specially crafted by a German Brewmeister. Lastly, there is Innovation Brewing, a rapidly growing establishment that has expanded operations and now has 32 brews on tap, a homemade ginger ale and three ciders. The Ale Trail will also welcome a fourth member this summer with Balsam Falls Brewing, which will have 16-20 beers on tap in a rotating selection.
3) Highflying fun
Feel the wind in your hair and plan a Jackson County ziplining adventure at Sapphire Valley Resort in Southern Jackson County. The Vordach Zip Line Tree Canopy Adventure features 16 platforms, two bridges, and 12 ziplines. Group rates are offered, so get a crew together and experience the wild, high-flying side of Jackson County.
4) Waterfalls
Jackson County is home to countless waterfalls and beautiful bodies of water. Tucked away in the area's unique landscape, these waterfalls ebb and flow with stunning, rushing water. Whitewater Falls, one of the highest east of the Rockies, Courthouse Falls and High Falls (pictured) are just a few that guests to the area shouldn't miss. To check out the entire list of waterfalls within Jackson County, visit https://www.discoverjacksonnc.com/outdoors/waterfalls/.
5) Arts & Crafts
Summertime in Jackson County is prime time for fairs and festivals highlighting the local and regional arts & crafts. Browse and shop for creative artisan goods at any of the various events throughout the summer. Check out the Front Street Arts & Crafts Show or the Mountain Artisans Summertime Art and Craft Show to see work from some of the best regional artisans. Take a look at our calendar for a full list of the county's events: https://www.discoverjacksonnc.com/calendar/.  
6) Fishing
Jackson County is known as the North Carolina Trout Capital® and home of the Western North Carolina Fly Fishing Trail®. This trail maps out 15 prime fishing spots that are teeming with brown, rainbow and brook trout. These pristine streams dip in and out of the Great Smoky Mountains and provide an array of streams from wide open, to secluded and private. With more than 4,600 miles of streams throughout Jackson County and 92,800 fish stocked in the county's waters each year, a great day of fishing is in your future.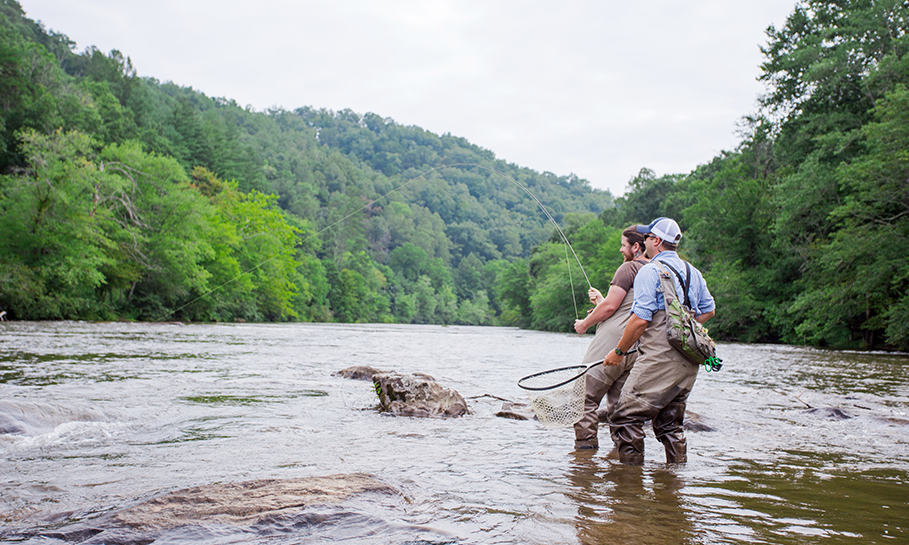 7) Al Fresco Dining
While visiting the sights of Jackson County be sure to stop and indulge in a delicious meal where you can take in the stunning natural surroundings. Check out the Sapphire Mountain Brewing Company, nestled among the scenic views of the Blue Ridge Mountains. This family-friendly environment offers rustic, but casual pub-style food and various specials while patrons enjoy the beautiful scenery. City Lights Café in Sylva, an eats, spirits and espresso bar, is also open for brunch and provides a relaxing space, including an outdoor patio and local art gallery. For more unique dining options, visit https://www.discoverjacksonnc.com/food-drink/.
8) Rafting
In Jackson County, the Tuckasegee River is the star when it comes to rafting. The river flows through beautiful valleys, mountains and towns and has coined the title "The Tuck" to Jackson County regulars. The Lake Glenville Dam releases rushing water into the west fork of the Tuckasegee River, creating class IV rapids over a 5.5-mile stretch. Whitewater rafting is available for all levels and a perfect out for the whole family. Inflatable rafts, kayaks and guided adventures are all options for an exhilarating day on the water. To schedule a guided trip, visit smokymountainriveradventures.com or www.raftnc.com.
9) Fourth of July
The mountains of Jackson County are the perfect place to celebrate the Fourth of July. With firework displays over Lake Glenville, Bridge Park Pavilion or on the Village Green Commons, you can choose the best option for your Independence Day celebrations. Enjoy the fireworks from a boat at Lake Glenville, live music and festivities around downtown Sylva, or set up a picnic at the Village Green Commons. Either is sure to be a summertime hit!
The first day of summer is quickly approach. Don't forget to book your summer getaway to Jackson County to make the most of the season, and experience for yourself our favorite, must-do activities in our neck of the woods! Visit www.DiscoverJacksonNC.com to get planning.